Business Development Manager - Tobago
, Tobago
Undisclosed
Permanent Full Time
Posted On 11.07.2016
Employer
Description
Position Summary:
The role of Business Development Manager is to sell and upsell Integrated Technology Solutions (ITS) and the Company's line of business equipment into existing and new accounts throughout Tobago. The incumbent will be responsible for the entire sales cycle (lead generation, product demonstrations and contract negotiation), ensuring compliance with corporate brand strategies and agreed customer service levels.
Duties and Responsibilities:
Perform lead generation activities, qualify opportunities and sell the company's line of business products and service to assigned accounts.
Providing consultation services advising on the best option based on their needs.
Collaborating with Marketing to develop promotional material and events for Tobago
Collaborating with the pre-sales support to design solutions for customer requirements incorporating product and services from all divisions.
Developing and implementing the account plan for assigned accounts.
Managing the entire sales cycle from lead generation to purchase order /contract signing.
Leading the preparation of quotations/proposals and conducting demonstrations for product/solutions.
Building and maintaining customer relationships, to increase client retention and to promote new sales and connections through referrals and references.
Participating in the accounts receivables and collaborating with the Finance department to review customer accounts.
Participating in Sales team meetings and providing accurate pipeline/sales forecasts.
Monitoring the industry trends, market activity and competitor activity and make recommendations for product improvements or new products offerings.
Keeping abreast of product developments and technical knowledge.
Performing other related duties as may be assigned may from time to time by Management.
Ensuring compliance to all health and safety policies and procedures in accordance with the Company policies and legislation.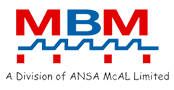 Overview
McEnearney Business Machines (MBM)
Job Requirements
Education and Experience:
Bachelor's Degree in Sales, Marketing, Business Administration or related discipline
A minimum of five (5) years' work experience in Sales, with a proven track record, preferably in a mixed Information Technology and Office Equipment environment.
Experience in Business Planning and working in cross functional teams.
Required Skills:
• Excellent selling skills
• Excellent interpersonal and communication skills
• Proficient in Microsoft Office Suite
• Strong negotiating skills
• Effective time management and organisational skills
Special Conditions:
• Must possess a valid Driver's License
• Must possess a reliable vehicle
• Works out of ANSA McAl Centre in Scarborough, Tobago
Career Advice
How to Dress for an Interview
So you've got an interview for the job you are praying to get, what now? As the saying goes, first impressions last, so choosing the perfect interview ou…
Read More