Though some applications do not ask for a cover letter at times, the candidate on the job hunt should always have a cover letter template to refer to in case an application calls for it.
There are some misconceptions as to how a cover letter should look. Many candidates repeat the information on their resume – which is totally wrong.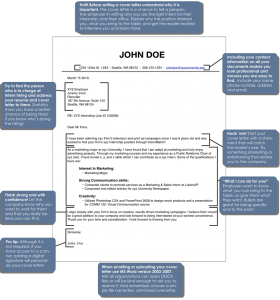 Here are some tips on how to write a great cover letter:
DO NOT repeat your resume
A cover letter is a safe space for you to single out projects or accomplishments at a job position you mentioned in your resume. You can highlight your leadership, communicative and project management skills depending on the position you are applying for.
DO include:
Who you are
Your contact information
What position you are applying for
How you learned about the job
Keep it SHORT
Be assertive and to the point. The recruiter does not need to know your life story, only the ones that matter to the job in question. Three paragraphs should be enough!
STAY AWAY from generic phrases like:
"I'm everything that you're looking for… and more!"
"Thank you for taking the time to read my resume."
"My skills and experience are an excellent fit for this position."
"I am an experienced, goal-oriented team player."
Making general statements does not give the employer a sense of who you are. Instead, explain why you are a great fit by giving examples.
CHECK spelling and grammar
Your cover letter is your introduction to your possible employer, so please make sure and double check your spelling and grammar before hitting send. Loads of online grammar websites can help you check your document.
---
For more detailed guidelines, click here!