Jobs by Jen-Mar Business Machines Ltd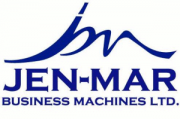 Mission Statement

To provide quality Products and Service At the best value to our Customers, while Maintaining a profit margin to ensure steady Growth both in resources and technology:

Jen-Mar Business Machines Ltd. is a private limited liability company, which was started in the year nineteen hundred and eighty three by Mr. Martin Xavier and his wife Jennifer. The Company originally started its business Marketing and Servicing the Kingtron Line of Cash Registers from Japan. Over the years, other lines were added to meet the varied requirements of its growing customer base. To date, Jen-Mar Business Machines Ltd. is the authorized representative for several brand name products as follows:


Brother International: Fax Machines, Electronic Typewriters, Computer Laser Printers, Laser Fax Machines, Scanners, Multi-Function Fax Machines, P-Touch Labelers.
AMANO: Time Clocks & Biometrics Time and Attendance System
Texas Instruments & Citizen: Calculators - Simple, Scientific & Business.
Samsung & Towa: Electronic Cash Registers, Stand Alone & On Line POS Systems
EBA & Fellows: Industrial, Heavy Duty & Office Shredders
Cummins: Note & Coin Counting Machines
Esselte Meto & SATO: Price Marking Systems
Digi & AND: Complete line of Industrial and Electronic Scales
Zebra: Barcoding Systems & Consumables
Microsoft RMS: Point of Sale Software for varied retail environments
Daceasy, Peachtree & QuickBooks: Accounting Software
NCR Aloha: Software for the Hospitality, Quick Service & Fine Dining Industry
RoomMaster: Hotel Reservation
AutoStar: High End Supermarket Software for medium to large supermarkets
Dell, HP, Samsung, Epson: Computer Systems, Laptops, Printers (Dot Matrix, InkJet, Laser)
Point of Sale Hardware: Receipt and Kitchen Printers, Cash Drawers, Pole Displays, Barcode Scanners etc.
We operate a full service department,that can perform repairs and provide a variety of networking solutions.

It is the policy of this company to always provide technical support for any products or software we carry. As we continue to expand our product base, we compliment this by expanding our support base as well. Our objective is to always provide to our customers an efficient back up service with minimum down time.

It is our intension to ensure that our staff is adequately trained and that we always remain on the cutting edge of technology. No doubt, as one of our valued clients, you can rest assured that as you grow, we will do our part to grow with you!!
There are no postings meeting the criteria you specified