Sales Account Executive
San Juan or Santa Cruz or El Socorro, North Central
Full time
Posted On 02.04.2019
Employer
Description
Fetch Couriers Ltd. is a freight company serving Trinidad & Tobago for over 8 years. We are a single source for all of your Air and Ocean freight solutions and logistics. We deliver fast, door to door, seamless solutions by building our business on five pillars – commitment, flexibility, trust, reliability, and passion, supported by our belief in taking your business personally. Tailoring solutions that meet your specific needs is what sets us apart, and it's how we constantly exceed your expectations. Fetch Couriers is based in El Socorro Trinidad, West Indies - with worldwide connections. We provide our customers with integrated combinations of all elements of the international import, customs brokerage and transportation delivery process.
APPLICANT BENEFIT: please take the time and read our entire ad. We ask that only suitably qualified persons apply.
Fetch Couriers Ltd. is currently seeking three experienced Sales Account Executives to join our Trinidad office located in El Socorro. If you have a passion for selling and are looking for a role that allows professional development and control over your take home income, then Fetch Couriers Ltd might be the place for you.
In this role you will drive sales growth through account management and winning new commercial enterprise. Our sales team is responsible for successfully driving new corporate business by recommending solutions that fit the needs of our customers, primarily over the phone and visiting new customers.
With your solid sales background, you will initiate and nuture business relationships with existing customers and prospective new business.
We offer a variety of pay structures that are very attractive from salary, bonuses to commissions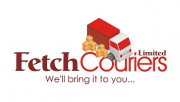 Overview
Fetch Couriers Ltd.
Job Requirements
The ideal candidate will have at least 1 years' experience working in Freight Logistics and have existing customers/ carriers they are currently working with. Naturally your ability to communicate and influence top decision makers will be an asset.
What we're looking for:
Solid communication and interpersonal skills, both verbal and written.
Freight industry knowledge, experience is a huge asset
Proven track record in achieving sales objectives and targets.
Solid networking skills. Engaging prospective clients, not discouraged by rejection.
Self-motivated, assertive and ability to function independently.
Sales experience in logistics and cargo freight industry is an asset.
Ability to understand, write and speak fluently in English
Strong geographical Trinidad and Tobago
Willing to share your ideas and strategies to advance our company for the future.
Analytical skills to analyse market, territory to determine potential customer's value as well as grow the company's customer base.
What to Expect
Uncapped earning potential: base pay (negotiable based on experience), uncapped sales commissions, bonuses - the ability to raise your income
A growing sales team: we hire people who are passionate about what they do, but more importantly about helping the customer fulfill a business need
Teamwork: our entire team shares best practices with each other - because we all want each other to do well
We will provide you with the tools and resources to help you succeed.
Your commitment to excellence will not go unrecognised - our team is small enough that your efforts are noticed (and rewarded), but big enough to provide you with the tools and resources to excel
Although we appreciate all interested candidates, only those who meet our qualifications will be contacted for an interview.
Thank you for your interest and look forward to having you join our team!
Career Advice
Your Recruitment Solution
Your Recruitment Challenges... our Solution How does it work? …
Read More