FACTORY MANAGER (Belize)
Permanent Full Time
Posted On 11.17.2020
Expire On 12.22.2020
Employer
Description
Benny's Enterprises Ltd
. is a limited liability company and is located at 2 ½ miles Philip Goldson Highway, Belize City, Belize. It was founded in 1947 by Bention Feinstein and is presently managed by two directors, namely, Mr. Brett B. Feinstein and Mr. Sean Feinstein. Today it is still a 100 % owned and operated family business. It is now in its third generation of a fully family owned and managed business. Its primary business is the retail and wholesale distribution of construction supplies, building materials and construction equipment and lubricants. Its secondary businesses include Real Estate Development, and minor agriculture. Benny's primary business employs 280 people and along with its
secondary businesses currently have over 500 employees. Currently, Benny's is expanding into manufacturing with three production lines now on stream with various products. We plan on tripling production capacity over the next two years.
JOB TITLE: FACTORY MANAGERJob Description:-
Developing and implementing innovative strategies to streamline factory operations.
-Supervising engineering and technical staff.
-Improving health and safety policies and procedures.
-Regularly inspecting finished products to determine whether they meet established quality standards.
-Analyzing production data to identify and resolve any production issues.
-
Delegate tasks to factory employees as necessary and
motivating factory employees to continually achieve factory targets.
-Training of new factory employees.
-Ability to maintain positive vendor and client relationships.
-Recommend methods for improving utilization of personnel, material, and utilities.
-Complete production reports, purchase orders, and material, tool, and equipment lists.
-Regulate and alter workflow schedules according to established manufacturing sequences and lead times to expedite production operations.
-Schedule deliveries based on production forecasts, material substitutions, storage and handling facilities, and maintenance requirements.
Requirements:
-Analytical skills.
-The ability to work well under pressure.
-Must be adept at problem assessment and problem solving
- Must be able to diagnose electrical and electronic and physical line issues.
-Must possess good communication skills – written and verbal.
-Ability to create work plans for various planning horizons.
-Ability to create budgets to submit to finance for various time periods.
-Ability to oversee staff and assign work load for planning periods.
-Must possess computer skills and must be proficient in MS Office
-Strong management and leadership skills.
Character:
-Honest and Trustworthy
-Organized and Efficient
-Mature and Responsible
-Team Player
-Flexible
-Managerial Experience
Considered a Plus:
-Bi-lingual (Spanish and English)
-Bachelor's Degree in factory / industrial engineering or equivalent, associates with experience acceptable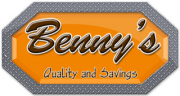 Overview
Benny's Enterprises Ltd.
Tags
Construction
:
Construction Engineering
:
Construction Management
:
Engineering
: Industrial-Manufacturing Engineering
Job Requirements
Considered a Plus:
-Bi-lingual (Spanish and English)
-Bachelor's Degree in factory / industrial engineering or equivalent, associates with experience acceptable