Jobs by Benny's Enterprises Ltd.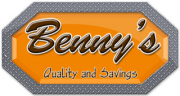 Benny's Enterprises Ltd. is a limited liability company and is located at 2 ½ miles Philip Goldson Highway, Belize City, Belize. It was founded in 1947 by Bention Feinstein and is presently managed by two directors, namely, Mr. Brett B. Feinstein and Mr. Sean C. Feinstein. Today it is still a 100 % owned and operated family business. It is now in its third generation of a fully family owned and managed business. Its primary business is the retail and wholesale distribution of construction supplies, building materials and construction equipment and lubricants. Its secondary businesses include Real Estate Development, and minor agriculture.

Benny's primary business employs 280 people and along with its secondary businesses currently have over 500 employees. Currently, Benny's is expanding into manufacturing with three production lines now on stream with various products. We plan on tripling production capacity over the next two years.
There are currently no available vacancies for this company